Cross-Cultural Training, how to adapt to others…
Either you are a young professional, or a well-rounded senior, leading a Team, or working as a Team-Member in, or just landing on an intercultural context is never an easy challenge. This training aims at helping Foreigners or Local people to learn how to adapt to different culture(s). To avoid cliches and stereotypes, this 12 hours training will focus first on a deep understanding of what intercultural is, not by using opinions, but using metric approaches.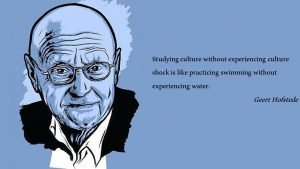 "Studying culture without experiencing culture shock is like practising swimming without experiencing water."
Geert Hofstede
On a first part, we will consider the "big Picture", especially thanks to the 6 Dimensions of Culture Theory, initiated by Geert Hofstede. The attendees will then have a questionnaire that will help them to position themselves on the 6 dimensions scale.
On a second part, we will be defining each and every personality type of the persons attending the training, thanks to the MBTI®, to help them understanding better their own communication and how to adapt it to their current or future environment.
Thanks to this 2 legged training, attendees will be able to develop their own action plan.
6 Sessions Detailed Program
The Cross-Cultural Training is offered:
* online within 6 sessions of 2 hours,
* or face-to face within 2 days-sessions. (day 1, sessions 1,2, 3; day 2: sessions 4,5,6)
---
Session 1
Introduction ( + Using the e-learning system)
Expectations of the attendees
What does "Culture" means, what is it made of?
Awareness of Cultural Differences: communication and cross-cultural communication
Beliefs & Stereotypes
Session 2
Levels of Culture – Shein
Layers of Culture – Hofstede
Low and High levels of Cultures
Geert Hofstede Questionnaire.
Session 3
The six dimensions of Culture
How about you? Profils comparisons (from the questionnaire)
MBTI Questionnaire
Session 4
MBTI Theory of types
Questionnaire feedback and validation
Session 5
Team dynamics, the MBTI approach
Type and communication
Session 6
The Map, Bridge and Integrate Approach for Intercultural Teams
Best Practices
Self-awareness and self-consciousness
Establishing your own action plan
The virtuous circle
Pedagogy
Academic inputs,
Proven methodologies (no opinion, no chit-chat) to support and documents the course
Individual and groups exercises specifically designed for online classes
6 attendees per group maximum
Technology
WHEN ONLINE, this training is delivered on an online platform that will enable you to attend the classes in live, or the recorded sessions if you cannot make it, you will have then the opportunity to ask your questions directly to the trainer.
The platform enables to work as a big group, but as well split the big group in smaller groups for exercises.
If you are not very good at computers, don't worry: attendees can connect easily with just one click to the classroom: there is no specific ability to have about IT systems. Classes can be followed from any kind of devices, even if it is better to have a dedicated space for working, and a computer or laptop.
Language
This workshop will be held in English.
Trainer
Sébastien has a 10 years experience of Thailand, and also has experience of 5 years working on African projects. Previous to this, he worked in Europe with numerous people from diverse nationalities as an advisor in multicultural cities. Accredited Trainer in France since 2011, he is also a professional coach for 20 years, and MBTI certified. His clients are from all around the World, on the 5 continents.
Dates of Online sessions
The Online Sessions take place every year at the same dates, exactly, at 01:00 PM, Greenwich Time (GMT/UTC+0):
Session 1: February 22-23; March 02-03-10-11
Session 2: April 27-28; May 05-06-13-14
Session 3: August 01-02-09-10-17-18
Session 4: October 28-29; November 05-06-13-14
Pricing
Online session: only 290€ net per seat
Public Session: only 1,090€ net per seat for 2 days.
In-House Session: only 4,390€ net per group +organization fees (Contact us)
More information and booking: contact us
Mankesav is an administration-registered and French-licensed training center.